Cornwall to Montréal
Forecast

Marine Forecast

Issued 03:00 AM EDT 22 May 2022

Today Tonight and Monday.

Wind light increasing to west 10 to 20 knots early this afternoon then becoming light this evening. Wind light Monday.

Showers this afternoon and this evening with a risk of thunderstorms. Fog banks dissipating this morning. Visibility 1 mile or less in fog banks and as low as 1 mile in showers.

Issued 06:00 PM EDT 21 May 2022
Weather Conditions

Zoom-in to make a selection

Legend:

Buoy

Land Station
Ice Conditions

There is no ice forecast issued for this area.
Warnings

No watches or warnings in effect.
Synopsis

Technical Marine Synopsis

Issued 3:00 AM EDT 22 May 2022

Today Tonight and Monday

At 3:00 a.m. EDT today trough located from Labrador to Lake Erie.
By 8:00 p.m. EDT tonight trough located from Labrador Sea to
Nova Scotia.

At 8:00 a.m. EDT today high 1030 mb located near Lake Michigan.
By 8:00 p.m. EDT Monday high 1027 mb located near Lake Saint-Jean.
St. Lawrence - St. Lawrence River Area
Another Region
Features
Hello Weather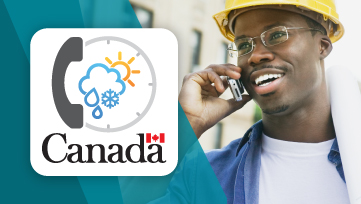 Hello Weather: our upgraded telephone weather service is here. 1-833-794-3556 or 1-833-79HELLO.