Alerts for: Slave Lake
Warnings
4:26 AM MST Sunday 24 January 2021
Extreme Cold Warning in effect for:
Athabasca Co. near Wandering River
M.D. of Big Lakes near Driftpile Faust and Kinuso
M.D. of Big Lakes near Enilda and Joussard
M.D. of Big Lakes near Hilliard's Bay Prov. Park and Big Point
M.D. of Lesser Slave River near Marten Beach
M.D. of Lesser Slave River near Slave Lake and Saulteaux
M.D. of Lesser Slave River near Smith and Fawcett Lake
M.D. of Opportunity near Calling and Rock Island Lakes
A period of very cold wind chills continues.

Extremely cold wind chills near -40 will continue this morning in areas of northern Alberta under clear skies.

Wind chills will moderate through the day today.
Extreme cold puts everyone at risk.

Cover up. Frostbite can develop within minutes on exposed skin, especially with wind chill.

Extreme cold warnings are issued when very cold temperatures or wind chill creates an elevated risk to health such as frost bite and hypothermia.

Please continue to monitor alerts and forecasts issued by Environment Canada. To report severe weather, send an email to ABstorm@canada.ca or tweet reports using #ABStorm.
Features
Need to travel Alberta Highway 93?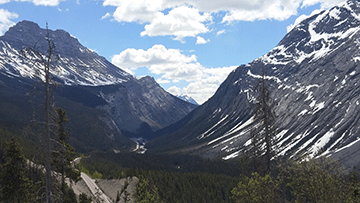 Go prepared with Highway 93 forecasts. Highway regions are available in the Alberta text forecast bulletin between Lake Louise and Jasper. (Photo by: Natalie Anderson)