Alerts for: The Battlefords - Unity - Maidstone - St. Walburg
Warnings
3:29 PM CST Tuesday 19 January 2021
Wind warning in effect for:
R.M. of Battle River including Sweet Grass Res. and Delmas
R.M. of Britannia including Hillmond
R.M. of Buffalo including Wilkie and Phippen
R.M. of Cut Knife including Cut Knife
R.M. of Douglas including Speers Richard and Alticane
R.M. of Eldon including Maidstone and Waseca
R.M. of Frenchman Butte including St. Walburg
R.M. of Glenside north of Biggar
R.M. of Hillsdale including Neilburg and Baldwinton
R.M. of Manitou Lake including Marsden
R.M. of Mayfield including Maymont Denholm and Fielding
R.M. of Medstead including Medstead Belbutte and Birch Lake
R.M. of Meota including Meota and The Battlefords Prov. Park
R.M. of Mervin including Turtleford Mervin and Spruce Lake
R.M. of North Battleford northwest of The Battlefords
R.M. of Parkdale including Glaslyn and Fairholme
R.M. of Paynton including Paynton
R.M. of Round Hill including Rabbit Lake and Whitkow
R.M. of Round Valley including Unity
R.M. of Senlac including Senlac
R.M. of Turtle River including Edam and Vawn
R.M. of Wilton including Lashburn Marshall and Lone Rock
The Battlefords
Strong winds that may cause damage are expected or occurring.

Strong northwesterly winds gusting to 90 km/h are expected to develop overnight in areas of western Saskatchewan and move east throughout the night. These strong wind gusts will arrive in southwestern Manitoba by Wednesday morning. Winds are expected to taper off from the northwest by Wednesday afternoon and should diminish by Wednesday overnight.
Damage to buildings, such as to roof shingles and windows, may occur. High winds may toss loose objects or cause tree branches to break.

Wind warnings are issued when there is a significant risk of damaging winds.

Please continue to monitor alerts and forecasts issued by Environment Canada. To report severe weather, send an email to SKstorm@canada.ca or tweet reports using #SKStorm.
Features
Need to travel Alberta Highway 93?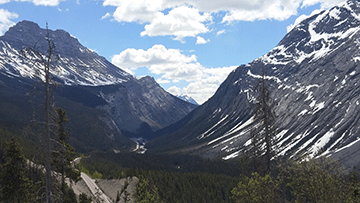 Go prepared with Highway 93 forecasts. Highway regions are available in the Alberta text forecast bulletin between Lake Louise and Jasper. (Photo by: Natalie Anderson)