Alerts for: Outlook - Watrous - Hanley - Imperial - Dinsmore
Warnings
3:29 PM CST Tuesday 19 January 2021
Wind warning in effect for:
R.M. of Arm River including Davidson and Girvin
R.M. of Big Arm including Imperial and Liberty
R.M. of Coteau including Birsay and Danielson Prov. Park
R.M. of Dundurn including Dundurn and Blackstrap Prov. Park
R.M. of Fertile Valley including Conquest Macrorie and Bounty
R.M. of Harris including Harris and Tessier
R.M. of King George northwest of Lucky Lake
R.M. of Loreburn including Elbow Loreburn and Hawarden
R.M. of Lost River including South Allan and the Allan Hills
R.M. of McCraney including Kenaston and Bladworth
R.M. of Milden including Dinsmore Milden and Wiseton
R.M. of Montrose including Donovan and Swanson
R.M. of Morris including Watrous Young and Zelma
R.M. of Rosedale including Hanley
R.M. of Rudy including Outlook and Glenside
R.M. of Willner west of Davidson
R.M. of Wood Creek including Simpson
Strong winds that may cause damage are expected or occurring.

Strong northwesterly winds gusting to 90 km/h are expected to develop overnight in areas of western Saskatchewan and move east throughout the night. These strong wind gusts will arrive in southwestern Manitoba by Wednesday morning. Winds are expected to taper off from the northwest by Wednesday afternoon and should diminish by Wednesday overnight.
Damage to buildings, such as to roof shingles and windows, may occur. High winds may toss loose objects or cause tree branches to break.

Wind warnings are issued when there is a significant risk of damaging winds.

Please continue to monitor alerts and forecasts issued by Environment Canada. To report severe weather, send an email to SKstorm@canada.ca or tweet reports using #SKStorm.
Features
Need to travel Alberta Highway 93?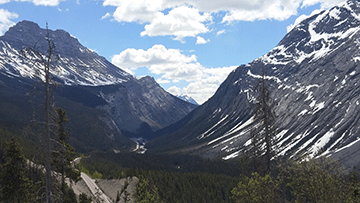 Go prepared with Highway 93 forecasts. Highway regions are available in the Alberta text forecast bulletin between Lake Louise and Jasper. (Photo by: Natalie Anderson)