Alerts for: Restigouche - Bonaventure
Warnings
4:46 AM EST Monday 01 March 2021
Winter storm warning in effect for:
New-Richmond - Bonaventure area
Restigouche - Carleton area
Hazardous winter conditions are expected.

Through Tuesday, from 30 to 50 centimetres of snow with strong winds and blowing snow are expected.

Snow, at times heavy, will begin this morning. During the day, winds up to 80 kilometres per hour will reduce visibilities to zero in the widespread blowing snow.

High winds could reach up to 110 kilometres per hour on the northern shore of the Gaspé Peninsula and in Blanc-Sablon. The region will be affected by high westerly winds of 90 kilometre per hour, reducing visibilities to zero in the blowing snow beginning early Tuesday morning.
Consider postponing non-essential travel until conditions improve. Visibility may be suddenly reduced at times in heavy snow.

Winter storm warnings are issued when multiple types of severe winter weather are expected to occur together.

Please continue to monitor alerts and forecasts issued by Environment Canada. To report severe weather, send an email to QCstorm@canada.ca or tweet reports using #QCStorm.
Features
Need to travel Alberta Highway 93?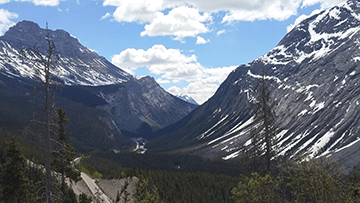 Go prepared with Highway 93 forecasts. Highway regions are available in the Alberta text forecast bulletin between Lake Louise and Jasper. (Photo by: Natalie Anderson)